In an attempt to court the anti-tourist vote, WMATA has begun a pilot, "Confuse the Tourist," experiment.
Here are some early prototypes sure to spin heads. No wonder many tourists look clueless.
Which one goes to the cherry blossoms?


@crimsonspud Do I want the BRD train to ####, or do I want the ## train to ####? WTF #wmata http://twitpic.com/1dyd5d
What's wrong with this picture? When did UDC move to Mt Vernon?!?!
All of the signs at the
Waterfront station
have this error, including these newly painted ones on the platform. Another Metro fail.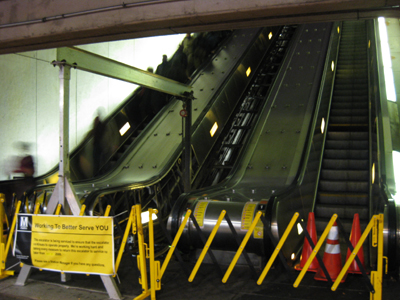 You'll huff and you'll puff, and you'll blow the monument down.
The three-cone combo on the right means "will never work again"
in Metro conespeak.
Photo:
Thomas Wilburn
Metro roulette: maybe it'll be right, maybe not.
Good luck
.
From Scott:
I needed to get from Union Station to Gallery Place and wanted to get there around 6:55 a.m. So here are my options: I can leave at 6:47 and get there at 6:51 just on the Red Line, or I can take this absolutely zany trip involving taking the Marc Penn Line at 5:10 to New Carrolton, wait nearly an hour there, then get on an Orange Line train to L'Enfant where I can then take the green line to Gallery Place, getting me there at 6:53. You could walk between the two stations probably at least 4 times in that time frame. But, it does come closer to my stated goal of 6:55...
Other items:
Online access for SmarTrip?
(WMATA)