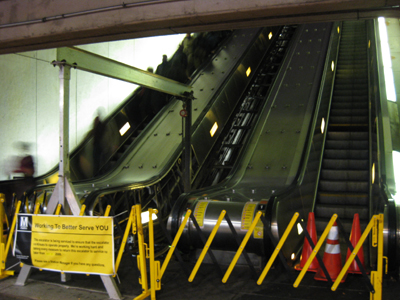 Broken escalators
are a costly problem for WMATA and a near constant source of irritation for many riders.
Back in 2006, WMATA said it cost $51,000 per unit per year to maintain its 588 escalators.
Some have questioned why WMATA just doesn't rip out some of the escalators and replace them with, gasp, stairs.
Our first reaction to the notion that WMATA would ever consider something like this was 'yeah right,' but to our amazement we found that
WMATA actually looked at replacing 23 escalators throughout the system back in 2006, going so far as to draw up a formal presentation
.
Candidate escalators had to meet the following criteria:
Could be no more then 30 feet high
Locations with multiple escalators where one escalator would be replaced with stairs, and two escalators would remain; one up, one down (i.e. Crystal City)
Locations with three or more escalators side-by-side, two would remain and one would be converted to stairs (i.e. Federal Triangle)
The following stations had viable candidates: Ballston, Courthouse, Crystal City, East Falls Church, Farragut North, Federal Triangle, Foggy Bottom, Friendship Heights, Glenmont, L'Enfant Plaza, Potomac Ave., Rhode Island Ave., Stadium Armory and Vienna.
Many had multiple candidates for replacement.
WMATA estimated that by replacing 23 escalators, it would save $1.2 million in annual operating expenses. The cost of replacing the escalators was estimated at $13.9 million. Some of that expense would have been offset by not having to perform a mid-life overhaul on 18 of the candidates for a one-time savings of $4.5 million.
The bottom line, WMATA said, was that they'd recoup expenses in less than 10 years.
What happened to the idea? According to the
minutes from the meeting
of the Customer Service, Operations and Safety Committee:
"The Committee members posed several questions regarding the financial analysis presented. The Committee did not collectively embrace this proposal; however staff was requested to look at escalators shorter in height than was proposed, consideration of safety related issues and their impact on escalators versus stairs, demographics of our riding population, identification of the specific areas that would benefit from adding stairs and accessibility, as well as other cost-saving ideas."
A Metro spokesman put it more succinctly: "It was shot down in flames."
Photo:
Thomas Wilburn