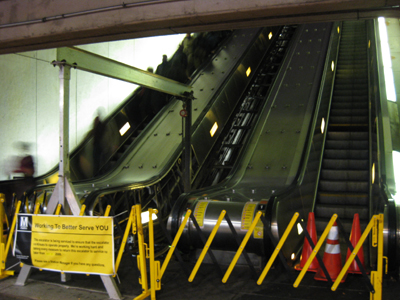 Yesterday afternoon, we saw several men--not Metro workers--looking very closely at the platform-to-mezzanine escalators at Federal Center SW. There are only two escalators there, one up, one down. They usually work, as do the three from the mezzanine to the street.
The men seemed concerned with the pylon that sits on the platform at the bottom of the escalators. Some were making sketches, while others talked about whether the pylon could be moved.
We decided to ask what was going on.
"We're gonna rip these escalators out and put in new ones," said one of them. "All up and down the Orange and Blue lines."
"All of the escalators?" we asked.
"Mostly the platform-to-mezzanine ones," he said.
That sounded like pretty big news considering Metro's escalator woes, so we asked Metro for the details such as cost, time lines, station names, etc.
Metro said it was "a survey of escalators as part of our Infrastructure Renewal Program," adding that several escalators on the Red Line will also be looked at.
"Escalators will be rehabbed, as in the past, however, several units will be completely replaced. Federal Center will be rehabs, a few units at Foggy Bottom and Dupont Circle will be replaced," they said.
We asked for more information, but Metro declined.
"This is the beginning stages," they said. "Watch for press releases as the actual work begins."
Recent escalator posts:
Metro's failin'est escalator
Mythical escalator repairman
Escalator improvement: No we can't
Metro bottlenecks
What is wrong with the escalators?
Escalator forecast


Other items:

Metro to tap ex-NJ Transit chief as interim GM (WaPo)
Examiner story on new interim GM



Photo:
Thomas Wilburn